Your Mobile Service Partner
Acumenx offer a range of services in the 3G, 4G and 5G Radio Access Network domain which can help streamline your network operation activities in areas such as fault localisation and new feature launch.
Subscriber retention and loyalty is critically important to your business. We can help you with Service Configuration and Activation, Service Quality Management and Service Problem Management in order to ensure that your network delivers for you and your customers.
Using our clearly defined, repeatable processes and techniques, you save time and money while increasing productivity.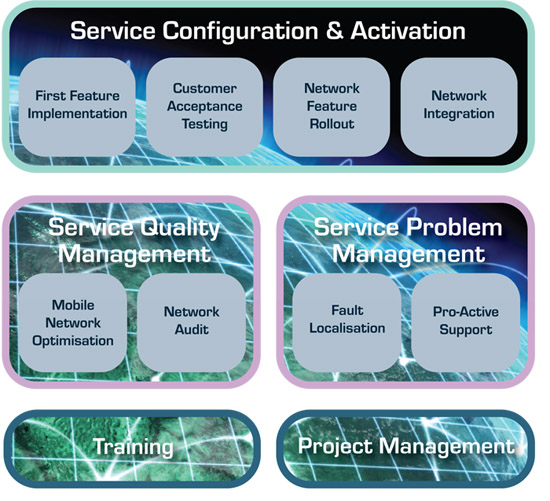 1. Service Configuration and Activation…
read more
The extraordinary growth in smart phones, tablets and wireless dongles has ensured an insatiable appetite for network bandwidth. In turn, operators are demanding a shorter time to market for new RAN feature launches to support the tremendous growth in new mobile applications.
Are you struggling with the ever increasing number of new features to be tested and rolled out in your network? Do new features always work first time as expected or do you suffer from avoidable delays due to unforeseen RAN feature incompatibility?
Acumenx has developed processes and techniques to ensure that every aspect of the rollout process is systematically followed ensuring that RAN features are deployed correctly first time and with the minimum of fuss.
2. Service Problem Management…
read more
How much time does your support team take to localise problems in your network? Network outages can only be rectified when the underlying problem has first been identified. How much revenue do you lose while you search for the root cause of a RAN outage?
Acumenx has developed a suite of processes and techniques to help your support teams systematically analyse and identify the source of your network problems. Developed over many years supporting network operators worldwide, our techniques ensure your problem resolution times are dramatically reduced.
Why not try our IP fault localisation process which provides a step by step guide to establish where IP related problems arise in your RAN and see how we can help you recover your network with minimum downtime?
3. Service Quality Management…
read more
Service Quality Management (SQM) involves assessing and benchmarking an operator's Radio Access Network (RAN) under a number of key criteria which affect a network's accessibility, retain-ability and throughput in terms of the network's parameter, configuration and dimensioning settings.
Our SQM process can be combined with independent Radio plan audits and core network audits to form part of an end-to-end solution for your network.